MOVE's 1978 Victims Remembered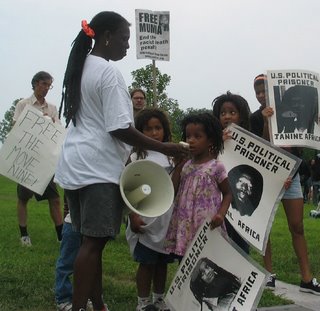 TWENTY-EIGHT years isn't too long to wait, is it?
by Stu Bykofsky
(
Pic of Consuella Africa who was convicted for her participation in the 1978 confrontation and now free, schooling MOVE children in the art of screaming into a bullhorn
)
from Philly.com
In 1978, Frank Rizzo was mayor, Jimmy Carter was president, Poland's Cardinal Karol Wojtyla became Pope John Paul II, "Laverne & Shirley" was TV's biggest hit, "The Deer Hunter" was the best picture, and Philadelphia police carrying out a judge's order on Aug. 8 were fired upon by MOVE "revolutionaries."
Stakeout Officer James Ramp died, several other cops and firefighters were wounded and other cops risked their lives on that humid August morning. Their bravery was never recognized by their city or even by their department.
That changed last week when nine officers were honored during Police Department commendation ceremonies at Fraternal Order of Police headquarters. The nine are Police Officers James Ramp, Lawrence D'Ulisse, Thomas Hesson, Charles Stewart, Joseph Zagame, Harry Mackel, James Farry and Albert Crane, and Lt. William Krause.
The meeting hall was packed with friends and family of the Nine, plus the families of dozens of other cops recognized for outstanding police work in recent months. The Nine each received the Valor Award, the department's highest, given for bravery under fire.
The Big Question was why it took 28 years to recognize the Nine.
The Big Answer was not forthcoming.
No one wanted to venture an opinion - not former stakeout officer Hesson, shot in the chest that day; not former lieutenant Krause, shot in the stomach and right arm; not current Police Commissioner Sylvester Johnson, who was in homicide in 1978 and remembers being stunned by the police radio call about a ferocious gun battle in Powelton Village.
"They should have done it a long time ago when I had people alive who would appreciate it, my family and all," said Hesson, who still carries bullet fragments in his chest. He was gunned down as he ran across the street to aid the mortally wounded Ramp, who had not even drawn his gun.
"I've been trying to get them to do it for a long time, but for some reason they wouldn't do it," he said.
Krause was "surprised" to get the recognition, but not surprised it took 28 years.
"I understand why," he said darkly.
I asked him to explain.
He paused. "I don't want to get involved."
Retired stakeout cop D'Ulisse wondered if the delay "was political or whatever."
I think "whatever," but I can't be sure, so I brought the question to Commissioner Johnson, who carefully distinguished between the 1985 Osage Avenue battle with MOVE and the Aug. 8, 1978, shootout.
"When a lot of people talk about MOVE, they talk about 1985," Johnson said. "In 1978, it was totally, completely different. I apologize to them for taking so long" for the recognition.
Did some sort of politics play a role?
"I try to stay away from politics as much as I can. I just try to do the right thing and the right thing is to honor them," Johnson said.
I looked back at the clips from 1978 and saw a traumatized city. Were the honors denied the cops because Philly felt shame or guilt for allowing the MOVE siuation to fester for 15 months? Was it fear of lawsuits? Worry about fanning racial tumult? The city's teeth were on edge after the shootout.
I tried to get a few words out of James Ramp's son, who lost the most that day, but someone pulled him away, maybe someone with bad feelings about the press, I don't know.
I do know if there had been allegations of police misconduct that day it wouldn't have taken 28 years to put the cops on trial.
But it took 28 years to honor them.